Staff rewards & Teambuilding for larger groups
Raceyachts, clippers, and more for teambuilding
By a combination of race yachts and clippers, this program offers both excitement as well as relaxing time for your guests. Excellent for if you need to start the day with a presentation or your 5 year plan, product launch, or other news to share with your staff. A true teambuilding activity and success formula for large groups.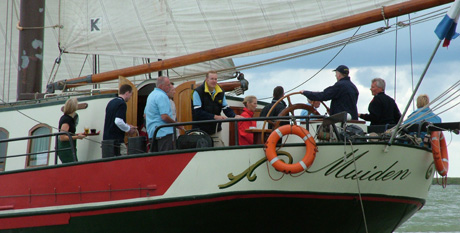 By using a clipper, you have the opportunity to split the group into 2 sub-groups: one group will start the day racing on sail yachts whilst the other group can stay on board of the clipper for a group activity there, or get a thrilling ride on our RIB's (rigid inflatable boats).
Then halfway through the day, the yachts will moor next to the clipper, and the groups will alternate.
Racing with sailing yachts
The sailing yachts will start with some initial training, before the race starts. In the meantime, the racing committee will set out the course for the race. After some time, the yachts will gather together at the starting line and the race can begin.

Playful competition and staff rewards
At the end of the day, there will be an announcement of the overall winner in our award ceremony. This can be held on board of the clipper, or at the location of your evening program
Have a look at our additional water event offerings. This is just to give you an idea of what we can do. Please just pick up the phone and talk to us - we are the water experts and will be able to craft events to suit your specific needs, whether for team building or entertaining at the highest level.
Related pages