Daytrip sailing Muiden - Volendam - Muiden
Sailing trip from Muiden to Volendam, with a regatta back to Muiden
For a full day program, a trip to Volendam can be recommended. After a coffee in Muiden at restaurant Fort H, the teams will be briefed by the skippers and prepare to leave the harbor. The trip to Volendam will take approximately 3 hours under sail. During this time, the participants can relax and enjoy the sailing. After arrival in Volendam, the sailing yachts will be moored next to the famous Restaurant Hogen for a nice lunch at the waterside.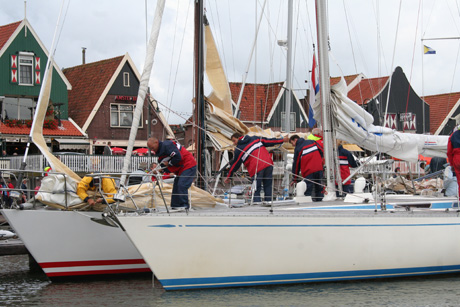 And then… a competitive race back to Muiden!
After lunch, the sailing yachts set sail again to Muiden. However, now in a competitive setting. The starting signal will be just outside the harbor, and the finish line at the entry of the harbor of Muiden.
Announcement of the winner
There will be an award ceremony for the winner, during drinks and/or dinner upon arrival.

Have a look at our additional water event offerings. This is just to give you an idea of what we can do. Please just pick up the phone and talk to us - we are the water experts and will be able to craft events to suit your specific needs, whether for team building or entertaining at the highest level.
Related pages