Fun corporate meeting on the water
This program is excellent for groups that aim to combine pleasure with business. A workshop, presentation or other form of business meeting can be held on board of a clipper or other large, typical Dutch sailing boat of the so called "Brown fleet".
Depending on the number of people, the group can be split in two sub-groups. One group will start the day on board of the clipper that will sail out of Muiden to be sailed or moored in the vicinity of Pampus island. During this time, the guests on board can listen to the presentation, whilst having lunch. Simultaneously, the other group will step on board of our sailing yachts for a race around the buoys also near Pampus island.

Halfway through the program, the groups alternate. At the end there can be a "winners race" in which the winner of each group will sail against each other in the final. The rest of the participants will watch them from the Clipper (either sailing or at anchor) whilst having some drinks.
At the end of the day, the sailing yachts and clipper will return to the harbor. After an announcement of the overall winner during the award ceremony on board of the clipper, the evening program can shift to one of the restaurants in Muiden.
Have a look at our additional water event offerings. This is just to give you an idea of what we can do. Please just pick up the phone and talk to us - we are the water experts and will be able to craft events to suit your specific needs, whether for team building or entertaining at the highest level.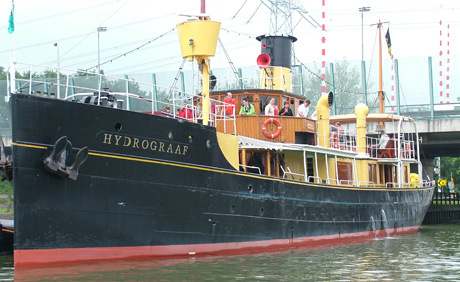 Related pages