You are here: Sailing Events > Nautical Business Event Locations > Sailing IJburg
Sailing IJburg
Planning your business water event from IJburg
From harbor club "the lighthouse" you can receive your guests in a modern ambiance. This location has a great meeting room with a lot of light, panoramic view and a superb menu.
Have a look around in The Lighthouse in IJburg
IJburg is very close to Amsterdam, Muiden and Pampus. From this location you can easily access several sites for a unique event either with clippers, sailing yachts, or fast RIBs.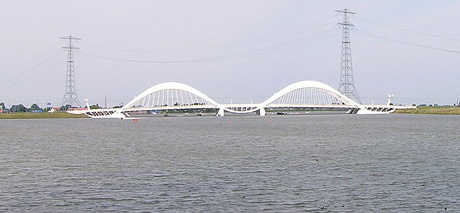 Bridge to IJburg by architect Nicholas Grimshaw (Photo by Ronald)
Just call us, we are the water experts and will be able to craft events to suit your specific needs, whether for team building or entertaining at the highest level.
Other locations for sailing events in the Netherlands
Volendam
Pampus
IJsselmeer
Markermeer