Regatta sailing with Dutch sail boats "Lemmeraken"
Racing with Dutch sail boats, the so called "Lemmeraken"
If you prefer comfort but in a competitive setting, than this is your event. These boats don't heel as much as our sailing yachts under sail. Therefore you can still race against other boats, but in a more comfortable style.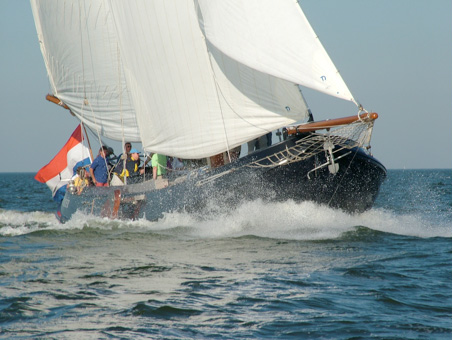 Competive & comfort
Rent a 16.5 meter Vissersman aak for a comfortable and competitive day on board of this boat.
These boats are built within a one design class and are therefore very competitive to race on. The boats are similar, so only the people on board can make the difference. These events can be done in a fleet, or as a match race event, depending on the number of people. Each boat has a maximum capacity of 12 people, excluding the skipper.
In Muiden we have 4 of these boats available for an event, but we can always organise additional boats from our network in other harbors.
Enjoy a comfortable lunch on our Lemmeraken
If you really like to have a more relaxing afternoon, you can choose to sail on the Ijsselmeer, without competing in a race. As these boats don't heel as much under sail, you can easily have lunch on board. We will cater the boat before leaving the harbor and someone will be there to serve you. A truly enjoyable experience for your special guests.
Have a look at our additional water event offerings. This is just to give you an idea of what we can do. Please just pick up the phone and talk to us - we are the water experts and will be able to craft events to suit your specific needs, whether for team building or entertaining at the highest level.
Related pages