Sailing Events good weather guarantee
Safe sailing with your company or… your money back!
Sailing Events good weather guarantee
Safety counts, no matter the weather.
Safety of our guests is our prime responsibility. Therefore, up until force BFT 6, we find it justified to set sail. We may need to adjust some elements of the program for it to be safe. However, if it is above force bft 7 we are no longer insured and we have to cancel the sailing.
Your active day sailing with us will not "fall in the water" with our storm, fog or ice conditions insurance policy. This insurance covers the event costs made from wind force 7. This means that you have the opportunity to re-book your event without financial loss as your budget is maintained. If you are not able to change the date, then we can organise a suitable alternative for a fantastic day on the water with e.g. RIBs, a day trip on the 'Vecht' with river boats, or even a culturist program in Muiden.
Together we develop a scenario event plan, in case of severe weather conditions. This way, you are still insured of a successful day on the water, despite the weather.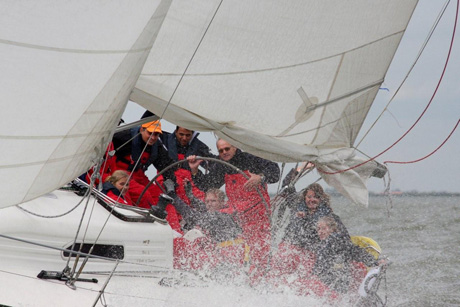 The good weather guarantee closed 6 weeks in advance is free of charge
Our good weather guarantee booking terms
See below the different options for this insurance policy.
Events booked at least 6 weeks in advance
When you book your event 6 weeks in advance, there will be no additional costs for this insurance. It will cover the yacht rental (incl possible transport costs) and organization fee.
If you wish to cover more than these costs, such as costs of catering, artists, locations etc, ask us for a customised solution.
Events booked at least 4 weeks in advance
Four weeks in advance, there are costs involved for the "heavy weather" insurance. You will need to address our insurance supplier directly. Ask us for details.
Events booked last minute
Bookings less than 4 weeks in advance can unfortunately not be covered by this policy. However, Sailing events also offers a solution in this situation.
If we cannot sail due to severe conditions, we will have to charge the full amount. However, you will be given the option to re-book your event later in the season and you will receive 70% discount on the total fee excluding catering.