Sailing school
Sailing lessons from Muiden
Attractive pricing
From October to April we can offer attractive prices. With more than 8 people, it can be less than than 100,- pp per afternoon sailing
Our sailing school is open throughout the year. We can offer sailing lessons on one of our yachts. If you assemble 6 people, we can teach you good boat handling on the water, but also in the harbor when maneuvering on motor.
Regatta training
Planning to go to Caribbean for a regatta with a group of friends or colleagues but you can use some training?

We can offer the following elements for your team so that you can get more out of your racing holiday:
Boat handling (tacking, gybing, sail change, whilst remaining maximum boat speed etc).
Roles & responsibilities when racing.
Efficient team communication.
Basic theory on wind & regatta sailing.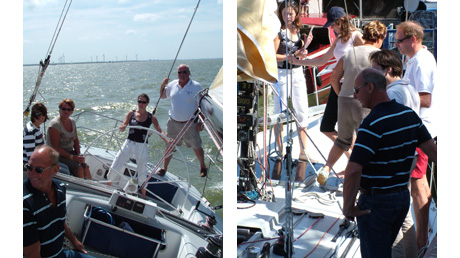 Have a look at our additional water event offerings. This is just to give you an idea of what we can do. Please just pick up the phone and talk to us - we are the water experts and will be able to craft events to suit your specific needs, whether for team building or entertaining at the highest level.